CICA Museum
May 24 – 28, 2017
2017년 5월 24 – 28일
Artist's Talk & Party:
May 26, 2017, 3-5 pm
파티 및 작가와의 대화:
2017년 5월 26일 오후 3-5시
Collaborating artists 참여작가:
KIM DA-UN 김다언, C2 탄소, Nara Lee 이나라, Mark Yang 양윤석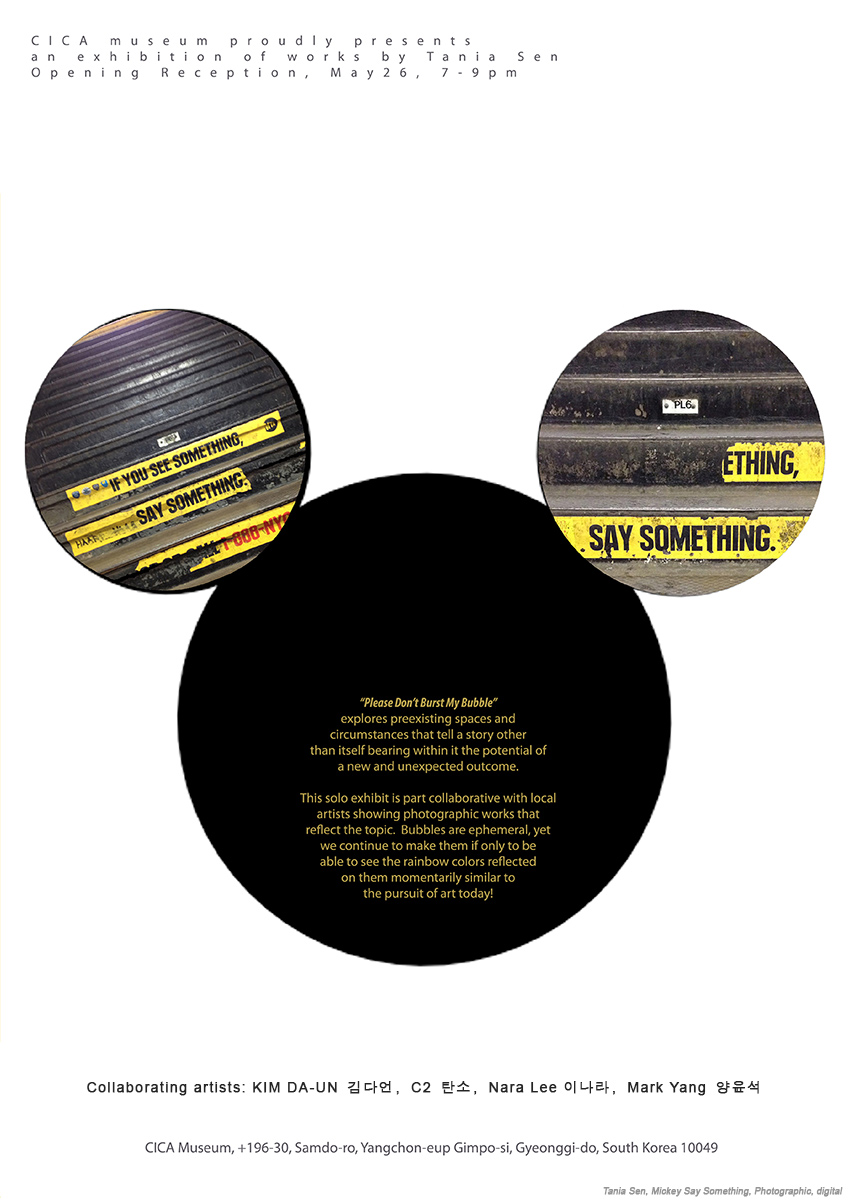 New beginnings, a promise of a fresh start – an act of optimism, a perception of a different outcome…"Inside New beginnings, a promise of a fresh start – an act of optimism, a perception of a different outcome…" Inside Outside" and "Sweet Release" incorporate printmaking with photographs of landmark buildings – Segrada Familia and Torrre Agbar in Barcelona. Being in conversation with my environment has been an obsession of sorts for many years, exploring inner and outer spaces is what happens in these works. "Waiting for the Sun", "Miracles", "Please Don't Burst My Bubble" and "The Incidental Kim" explores preexisting spaces and circumstances that tells a story other than itself bearing within it the potential of a new outcome, new and unexpected. "Say Something", the two Mickeys and "Corrupt" are a play on the obvious. The Subway stairs in NYC or the quintessential roadside news stand nestled within the shape of Mickey bears a dark playfulness, as also in the twisted Coca Cola letters resonating the outcome of dictatorialship. Needless to say that this piece along with "The Incidental Kim" are playful allusions to North Korea.
This solo exhibit is part collaborative with local artists where they show photographic works that reflect the topic.
Bubbles are ephemeral, yet we continue to make them if only to be able to see the rainbow colors reflected on them momentarily similar to the pursuit of art today!
Tania Sen
Taniasen.com
Born in Kolkata, India; Tania Sen currently lives and works in New York/New Jersey. Sen's works have shown at the Newark Museum (NJ), The Royal Scottish Academy, Tate (UK) Mumbai Museum (India) Torpedo Art Factory, Feminist Art Project, Goggleworks, Prince Street Gallery etc. Sen graduated with Honors in English Literature from Calcutta University, and completed Masters in Communication Arts and MBA from New York Institute of Technology, on academic scholarships. After working in the Advertising industry for twenty some years Sen turned to teaching and art therapy since 2001. She taught Advertising Design at the College of St. Elizabeth, Morristown, NJ and also practiced Art therapy with autistic children at the Morris Union Jointure Commission, Warren, NJ. A founder member of SIPMA Contemporary, Sen curated a number of exhibits. Among Sen's inter- disciplinary collaboration projects are: experimental dance/art at Swarthmore College and performance art at the Soho 20 gallery, NYC.
Image (top) © Tania Sen, Image Corrupt, hand drawn artwork silkscreened on sculpted aluminum, 30x60x4 inches