CICA NMAC 2018 Registration
Thank you for your participation in CICA New Media Art Conference 2018.
Please fill out and submit the CICA NMAC Registration form below and pay the registration fee via Paypal or Payapp.
Payment Options
Pay Pal for US and international currency
Pay App for Korean currency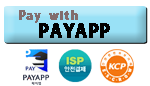 Terms and conditions
Registration fees are considered confirmation of your participation of the CICA NMAC 2017. The fees are refundable only under specific circumstance:
The conference is not held due to certain circumstances.
The email confirmation will be sent to you when the payment is received by CICA Museum. Please contact us if you have any questions.
CICA Museum
Tel:+82.31.988.6363 (10:30 a.m.-5:30 p.m. KST UTC+09:00, Wed.-Sun.)
Inquiry: http://cicamuseum.com/contact