개인적인 상실체험으로부터 삶과 죽음에 대한 이야기를 다루고 있다. 영원히 함께 할 것 같은 가까운 사람의 죽음은 무한할 것 같은 삶의 한계를 여실히 보여주었으며 삶의 태도에 변화를 가져왔다.
작품에서 보여 지는 삶과 죽음의 이미지는 서양의 '메멘토 모리'의 이데올로기와 한국의 유교사상으로부터 영향 받은 한국문화의 이데올로기의 결합으로 형성된다. 예컨대, 마른 낙엽이나 그림자와 같은 상징적 이미지는 '우리는 모두 죽음을 맞이할 수밖에 없는 존재임을 기억하라'는 즉, 죽음의 경고를 나타낸다. 또한 작품 안에서의 한국 유교사상의 이데올로기는 관람자로 하여금 자연을 떠올리게 만든다. 다시 말하자면, 유교사상에서 인간은 자연의 음과 양으로부터 온다 하였다. 즉, 영은 하늘의 양에서, 몸은 땅의 음에서 형성된다. 그러므로 죽음은 곧 자연으로 되돌아감을 뜻하는 것이다. 따라서 인간의 삶과 죽음은 자연의 생성과 소멸과 상통한다고 할 수 있으며, 인간도 자연의 한 일부라 할 수 있다. 실제로 인간의 세포나 혈관의 이미지에서 쉽게 자연을 연상할 수 있다. 예를 들어 혈관은 마치 나뭇가지를 연상케 하며, 자연의 세포와 인간의 세포 역시 구별할 수 없을 만큼 같은 이미지를 가지고 있다. 이러한 익숙한 자연의 이미지를 연상케 하는 모티브들은 두 겹의 실크 거즈 사이에서 새로운 이미지로서 낯선 자연의 풍경을 만들어 낸다.
두 겹의 레이어 사이의 낯선 이미지를 응시하는 것은 마치 자신의 유한한 삶과 마주하여 현재의 삶을 바라보는 과정이라 할 수 있다. 단순히 유한적 삶의 경고가 아닌 현재의 삶을 되돌아보는 기회를 제공한다. 가장 중요하고 소중한 것은 지금 현재, 매 순간에 존재하고 있음을 깨닫게 만드는, 즉 삶에 대한 보다 긍정적인 메시지를 담고 있다.
-조미예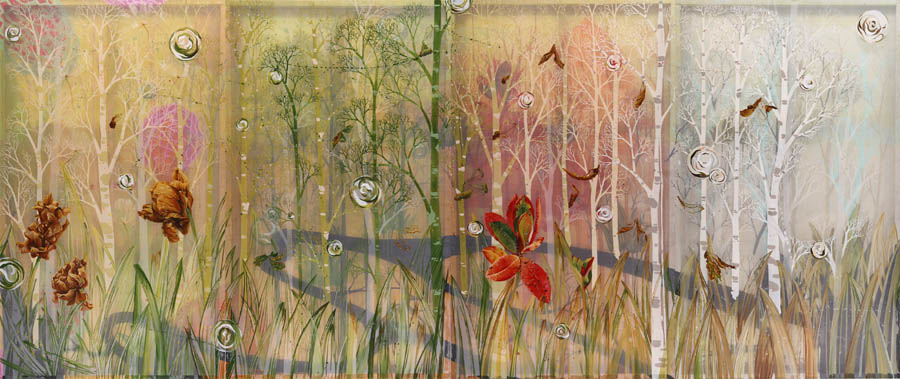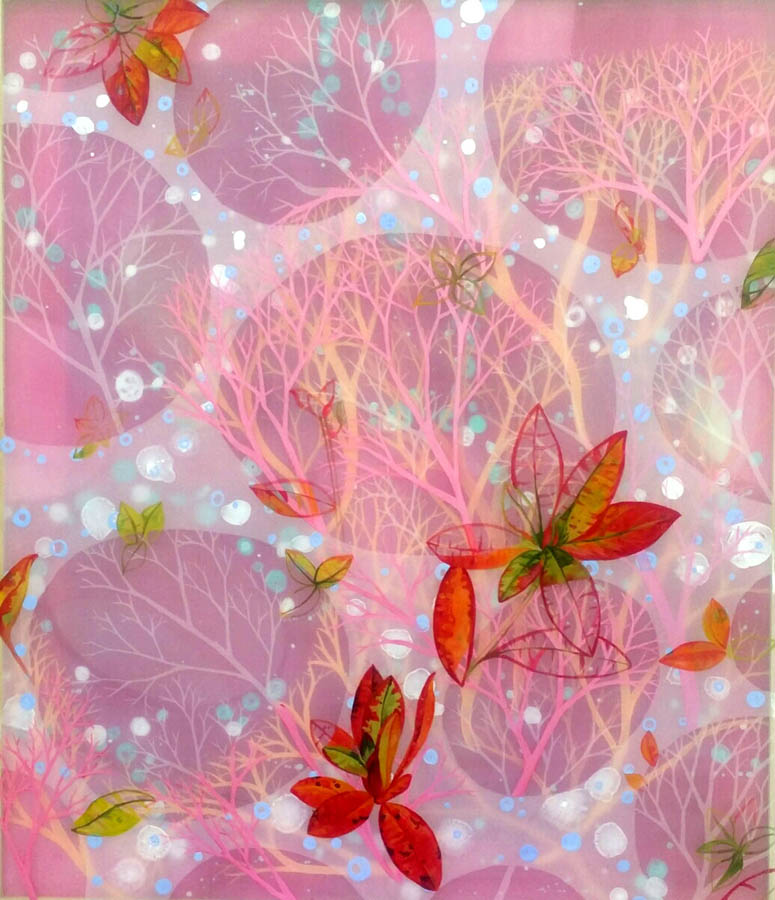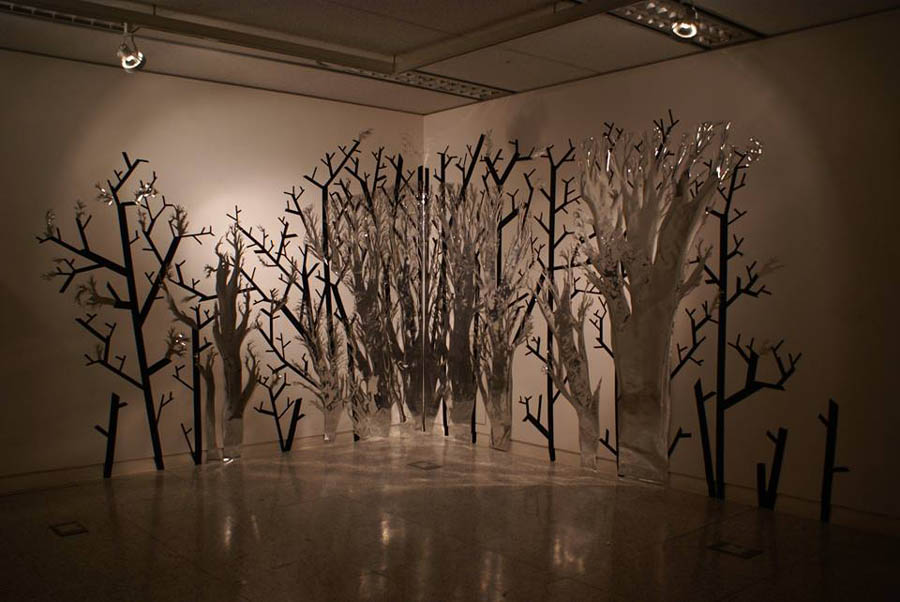 My painting examines aspects of life and death from the perspective of close personal loss, which means from my personal experience having lost people who were close to me I became interested in life and death. It led me to think about life and death, bringing me an alteration of my attitude about my life.
The image of life and death combines Memento Mori of western ideology with Confucianism in Korean tradition which means I express that we must die and should remember it, using symbolic images, such as screaming faces, dry leaves or shadows. Also following the Confucianism Korean ideology, the images in my paintings make people evoke landscapes. In other words, in Confucianism, humans come from the yang and the yin of nature, where the soul is created by the yang of the sky and the body is created by the yin of the ground. Additionally to return to nature is death, thus the image of human's life and death is expressed in the creation and extinction of nature as a part of nature in my paintings. Furthermore organic human bodies are like nature, like the branches and blood vessels or trees and human's cells, so the familiar motifs from nature on silk and acrylic sheets of several layers are arrayed and destroyed, and make the uncanny space.
Thus I attempt to stare into the painting to read images between layers of my work, and that means to stare into one's death itself. More importantly within my painting is a deep and positive sense of being aware of the essential and important things within every moment of every day of life, rather than warning of mortal life.
– Statement by Miye Cho
조미예 Miye Cho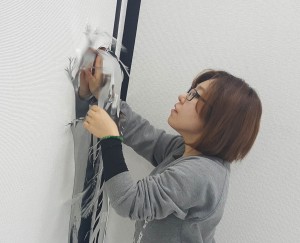 홍익대학교에서 회화전공으로 학부와 석사과정을 마치고, 웨일즈의 Cardiff Metropolitan 대학에서 성적우수자 석사학위를 받았다. 아케이드카디프 프로젝트 공간에서 초대전을 가졌으며 그에 이어서 '2013 Walsh Artist of the year'에서 작품이 선정되어 카디프 St David's Hall에서 열리는 그룹 전에 참여하였다. 그 외에 한국에서 개인전을 가졌으며 영국, 미국, 한국 등에서 수 차례의 그룹 전을 가졌다. 현재 한국의 창작스튜디오 레지던시 프로그램에 참여 중이다.
I received my BFA and MFA degrees from Hong-IK University, Korea and I got my second MFA degree with distinction from Cardiff Metropolitan University(CMU), Wales. I had solo exhibition with support from Acadecardiff in Wales and I was selected as one of the artists for '2013 Walsh artist of the year' so I took part in the show at St David's Hall, Cardiff, UK. I have also had solo exhibitions in Korea and group shows in the UK, USA and Korea etc. Now I am taking part of artist residency program in Korea.